Shopping Cart
Your Cart is Empty
There was an error with PayPal
Click here to try again
Thank you for your business!
You should be receiving an order confirmation from Paypal shortly.
Exit Shopping Cart
Monica Lammers (a.k.a. gypsumgirl)
Small Business Freelance Content Writer
| | |
| --- | --- |
| Posted on December 20, 2013 at 10:25 AM | |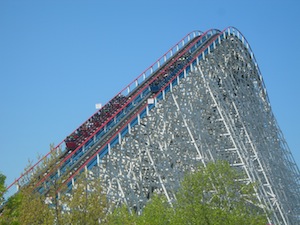 Are you riding the small-business rollercoaster?  Every small business owner does.
Here's how things typcially go...
You have the urge to quit your boring day job and branch out on your own.  Ideas start flashing through your head and you decide to start your own business.  This gives you your first journey up the tracks -- the anticipation just kills.  You get everything lined up and you're ready to launch.
Your built-up excitement is smashed almost immediately when you cannot figure out why nobody notices your new business.  This is the first dip of your rollercoaster ride.  You have a target audience, but you haven't figured out how to reach them yet.  Research is now in order and you figure out that you need to try to find clients on social media networks.  After all, that's where everyone hangs out these days.
This realization is the start of the next incline -- this time, the climb is even higher and more exciting.  You sign up for Facebook, Twitter, Instagram, Pinterest and anything else you can think of.  Followers start to slowly build and things are starting to look better.  You even gain a few "likes" out there in the online world.
Word starts to get out and you begin to build up a following.  Your products and services are flying off the shelves and delivered with the highest quality.  That's the good news.  With good news comes the bad.  Overwhelm starts to set in and all of a sudden, there is so much to do that it is difficult to keep everything straight.  Here coms the next dip.
With this second dip comes the consideration of some "must-have" small business tools that will help you take away the overwhelmed feeling and get things organized.  These tools have helped many small businesses start back up on an incline once again.
Google Analytics.  A small business usually does not have enough human resources to dedicated a worker to tracking website progress and effectiveness.  Google Analytics is a tool that can be used to track traffic to the website.  The information presented can prove to be useful in that it gives owners an idea of who is visiting the website, where they are coming from, and how often they are landing on the pages.  The information collected can help inform adjustments that need to be made to take the business to the next level.  This statistics tool is helpful for monitoring the small business' website.
Dropbox.  When human resources are lacking, small business employees generally wear multiple hats in the organization and perform multiple tasks.  Dropbox is a storage tool that helps assure all important documents can be accessed by multple people through the use of a variety of devices.  Micorsoft Word documents, for example, can be stored on Dropbox and accessed using a desktop, laptop, tablet, or mobile phone.
HootSuite.  When there isn't an employee dedicated to posting information on social media networks, the task can fall to the wayside and be forgotten.  HootSuite allows users to write up their communication ahead of time and schedule for delivery in the future.  It will post communication on such platforms as Facebook, Twitter, Instagram, and others.  Images and videos can be attached and delivered as well.
OmniFocus.  When each person in a small business has to juggle multiple tasks and work on a number of projects simultaneously, OmniFocus can be used to keep everyone organized.  This organizational tool helps gathers information, organizes it, and allows access from multiple devices.  The data collected can range from meeting locations and times to stream of consciousness thoughts.  This tool proves to be a huge timesaver for employees and they can avoid losing sticky-notes and to-do lists.
Trello.  When a limited staff is busy with multiple projects, it can be difficult for them to find time to sit down and meet with one another on a regular basis.  Trello is a collaboration tool that might help small businesses organize their projects.  The projects are essentially organized into three categories -- pending, in-progress, and completed.  With Trello, everyone can stay on the same page.
Without a doubt, small businesses need tools to help them run efficiently and continue to draw in new customers. With limited staff, things can get difficult.  To avoid getting stuck in a dip, consider implementing these five must-have tools.  They can potentially help move your business onto the next incline and take to whole new levels.
Categories: None
/