Shopping Cart
Your Cart is Empty
There was an error with PayPal
Click here to try again
Thank you for your business!
You should be receiving an order confirmation from Paypal shortly.
Exit Shopping Cart
Monica Lammers (a.k.a. gypsumgirl)
Small Business Freelance Content Writer
| | |
| --- | --- |
| Posted on December 15, 2013 at 11:30 AM | |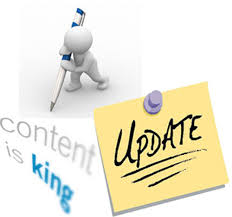 Picture the following scenario:
You started your online business a year or two ago, or you created your first corporate website during that time.  Your website was state-of-the-art at the time, attracting potential customers and adding to your clientele list.  Your revenue rocked for a period of time -- enough to make you evolve into what you are now. 
Currently you are just plodding along and things seem to be flat.  You're not really sure what has gone wrong.  Your lines of products and services are still selling well, but there seems to be no new customers.  The returning ones are interacting less and less with your website, only visiting when there is a dire need.
One thing you may want to consider is updating your website's look and content.  Many stagnating businesses tend to give their websites a new facelift, using bolder styles and louder colors.  Business owners, however, don't always think about changing up their content.  Updating website content is important, especially if the company has evolved over the last couple of years.
Many people spend the bulk of their lives on the Internet.  They find information, shop, bank, conduct business, and connect with friends as they cruise the World Wide Web several times a day.  In fact, people are spending more time online on their computers or mobile devices than watching television.
An added bonus for keeping your website content updated is if you are evolving with search engine algorithms, you will continually find yourself at the top of the search list.  That's what bringing customers to your website is all about!
When it comes to website content, there are two types -- static and dynamic.
Static Content
The static content on your website is "evergreen" and does not need to be changed regularly.  The sections of your website that fit this bill include the About and Contact pages.  The information found on these pages do not necessarily change.  There is usually no changing the About page since the information is likely a part of past history.  There may be occasional changes if the company takes a turn in what it delivers to customers.
Dynamic Content
The dynamic content on your website is everythign else.  As your products and services evolve, your content needs be updated at the same time.  The important factor to consider at all times is the relevance of the content.  It is imperative for the content to be relevant to customers.  When website is updated frequently, customers will continue to return as they are curious about what might be added.
It is also important to consider changing up the type of media you have on your page.  Text only websites do not engage customers and they will not stay on your page for long.  Consider including pictures, videos, and infographics to rejuvinate the website.
An added bonus for updating website content is to evolve along with the major search engine's algorithms.  If you want your business to consistently land on the first page of a Google search, then content on your website needs to be updated according to the search engines evolution.  This will bring more customers to your business rather than allowing it to stagnate.
If you are interested in updating your website content and would like to work with a freelance writer, click here and fill out a no-obligation contact form and I would be happy to provide you with a quote.
Categories: None
/